SEARCH –  Manhattan Montana Homes For Sale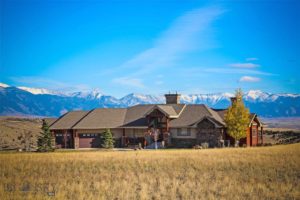 The community of Manhattan is located in South Central Montana, 20 minutes west of Bozeman. It is surrounded by wide open spaces and rural roadways, offering stunning views of small family potato and dairy farms, wheat fields, sweeping mountain ranges, and lots of wildlife. Scenic views abound from the Horseshoe Hills, the Bridger Range and the snow-capped Spanish Peaks Wilderness. Special events, seasonal festivals and a thriving business community celebrate Manhattan's heritage and rural lifestyle.
At 4200 feet you'll enjoy the best of all four seasons here in our little valley.  Manhattan is affectionately nicknamed the "Banana Belt" because of its benign climate. Spring weather brings vibrant blooming wild flowers followed by balmy summers with a mean temperature of 81 degrees in August. Crisp colorful autumns bring the promise of great fishing and wildlife viewing, while winter finds snowy peaks surrounding Manhattan – perfect for skiing, snowshoeing and other winter activities.

2010 census
As of the census of 2010, there were 1,520 people, 622 households, and 405 families living in the town. The population density was 787.6 inhabitants per square mile . There were 733 housing units at an average density of 379.8 per square mile. The racial makeup of the town was 96.2% White, 0.1% African American, 0.3% Native American, 0.7% Asian, 0.1%  Hispanic were 2.6% of the population.
There were 622 households, of which 31.2% had children under the age of 18 living with them, 54.3% were married couples living together, 6.6% had a female householder with no husband present, 4.2% had a male householder with no wife present, and 34.9% were non-families. 29.6% of all households were made up of individuals, and 12.8% had someone living alone who was 65 years of age or older. The average household size was 2.40 and the average family size was 3.02.
The median age in the town was 41.2 years. 25.8% of residents were under the age of 18; 4.7% were between the ages of 18 and 24; 24.9% were from 25 to 44; 29.5% were from 45 to 64; and 15.2% were 65 years of age or older. The gender makeup of the town was 51.1% male and 48.9% female.
2020 – Median Price of a Single Family Home in Manhattan
$472,500
Median Price of a Townhome in Manhattan
$282,500
Median Price of a Condo in Manhattan
$155,000